Dishes unusable in the microwave
Dishes that cannot be used in the microwave (or dishes that are not safe to use in the microwave)
Dishes unusable in the microwave – Choosing the right utensils for outdoor foods or food products that need reheating is important; The packaging of food delivered from a restaurant or a ready-made meal prepared from grocery stores and whether it is safe to use it in the microwave can pose a new challenge for customers of these products.
In the world of plastics, temperature tolerance and product instructions may vary depending on the manufacturer, but in general, containers made of paper products, aluminum, polyethylene terephthalate (PET) and polystyrene (PS) should never be used in the microwave. Containers made of high-density polyethylene (HDPE), polypropylene (PP), and molded fibers and bagasse are typically microwave-safe. Since some dishes should never be placed in the microwave, it is important to identify safe plastics in the microwave; For this reason, more introduction of each of them is given in the continuation of this article.
Plastic #1 Polyethylene Terephthalate (PETE)
This material is light, soft, resistant to crushing, easily recyclable and disposable, and is widely used. It is the most commonly used plastic material but only has a temperature tolerance between -18 and 50  degrees before the material will start to warp or melt.
As a result, we can say Plastic number 1 or PETE, is not microwave safe.
Plastic #6 Polystyrene (PS)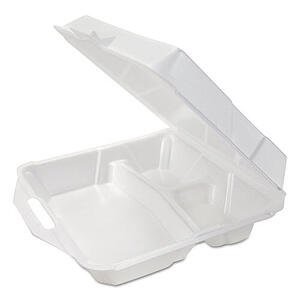 Styrofoam used to be one of the most common materials for takeout packaging and cups. Good thermal insulation properties keep food warm during transport. However, in certain areas, recent regulations have banned the use of foam forcing operators to select other container materials. Disadvantages of polystyrene include its disposable use and the ban on its use in many areas; Also, if not used properly, it can cause the migration of chemicals to food.
Aluminum
Aluminum, although great for the oven and high temperatures up to 205 degrees, should never be microwaved. If microwaved, it can cause damage to your microwave and injury to the operator.
Paper Products
Although not recyclable or washable, these products are most commonly used in the manufacture of outdoor food containers, cups, plates and bowls due to their good thermal insulation properties. They can be coated, sealed, or glued and when heated could cause these additives to leach into your food. For this reason, paper products are not normally safe for use in the microwave.